Autumn means many things to different people. Some folks get excited about the cooler temperatures. Some get excited to see the leaves changing colors. Others are thrilled because it means the "holiday season" is right around the corner. As for me, I love the fall for an entirely different reason.
Like many from my generation, I was raised on television. Sure, I would go out and play with friends after school, but the second I got home, the tv came on. When both parents were at work, the soothing glow was the best babysitter in the world. In the pre-cable days of three networks (and a couple of UHF stations), I would watch cartoons, game shows or anything else that happened to be on. So Autumn has always held a special place in my heart because that was the beginning of the Fall TV season.
We had been flooded by ads – both printed and in commercial form – for new programs we had to watch. Before "Must See TV" became a brand identity, it was simply a way of life. And nothing signaled the start of that season better than TV Guide's "Fall TV Preview". For a TV junkie like me, it was like the Sears & JC Penney Christmas catalogs rolled up into 250 pages of wonderment. I would monitor my grandparent's mailbox constantly starting the first week of September, hoping to be the first to see the new offerings. This was long before the internet, so for many of us, this was the first chance we had to see everything on display. It was like a menu for the greatest restaurant ever.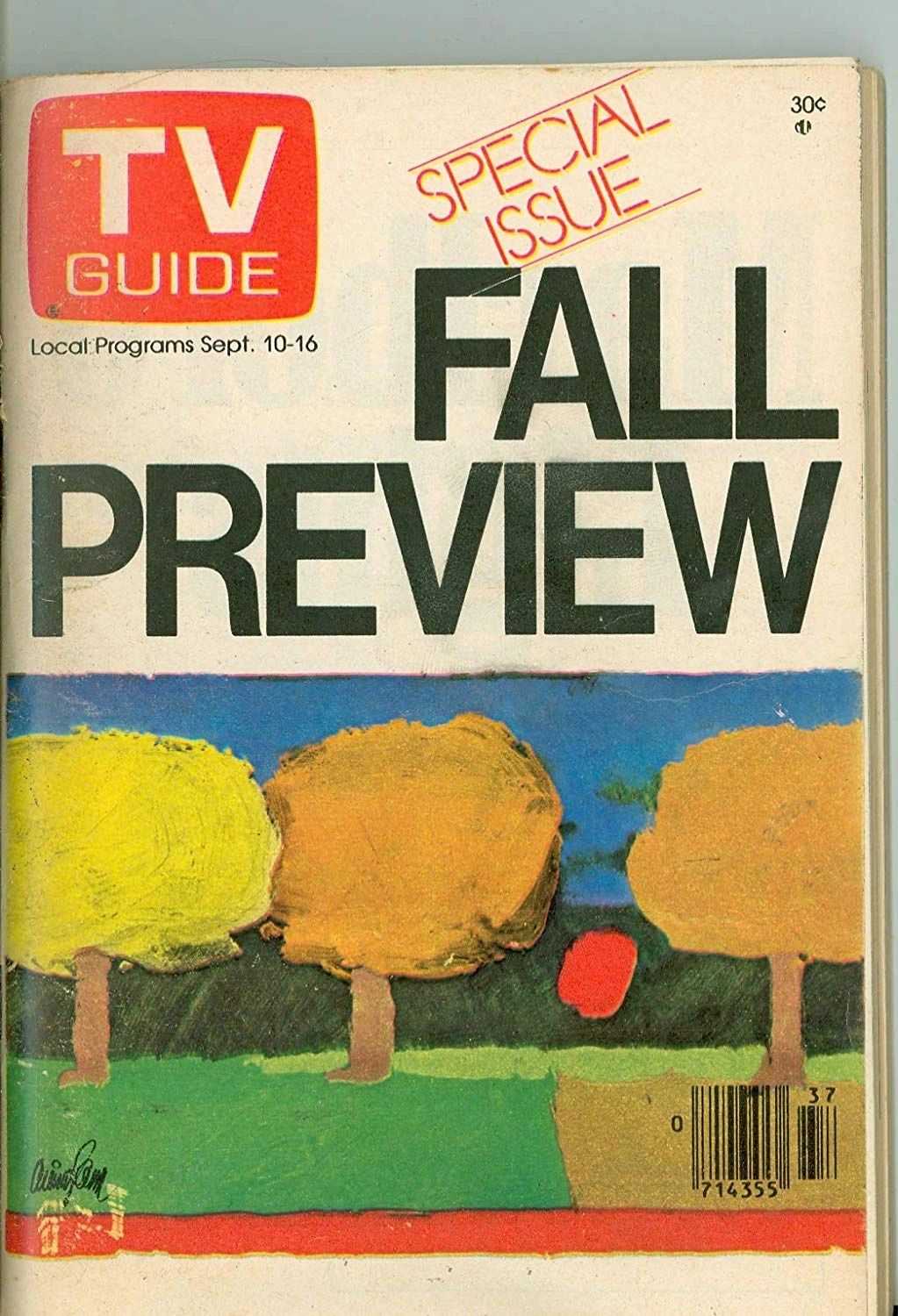 My grandfather passed away when I was young, so I don't have too many memories of him, but I do recall him getting angry with me because I kept taking his TV guide. He had a very specific place for it right next to his chair and if it was moved… it wasn't pretty. If I was fortunate, however, to get to that year's edition before he did, I would hide away in my room and comb through it, like some pore over the Bible, often reading some entries multiple times hoping to commit the entire tome to memory.
Like any comfort food, they were always very consistent with how they laid things out. Sections dedicated to Special Event programming, Daytime, Sports, Public TV were scattered throughout. And a whole section dedicated to upcoming & often first-run Movies (Superman is going to be a 2-night event on CBS!!)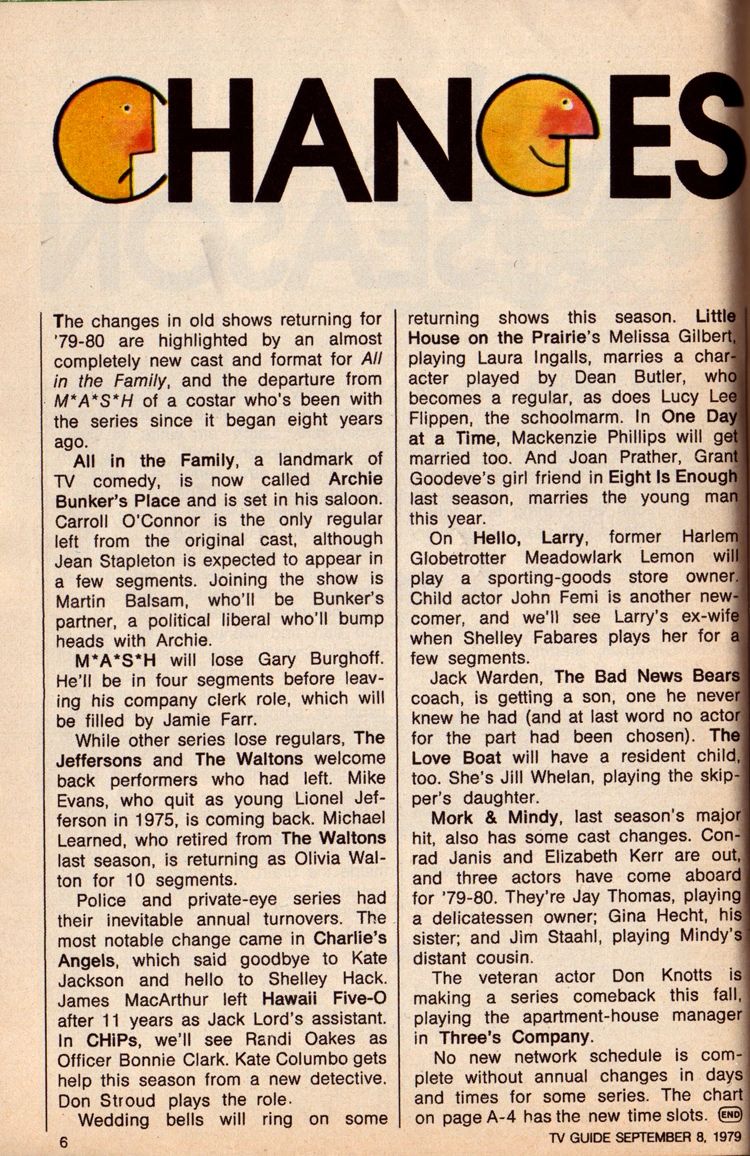 They even dedicated a section to Changes in Old Shows. Want to know what to expect for Richie Cunningham this season? No need to wait. Just check page 11. (Spoiler Alert! "Richie's wife, Lori Beth, presents him with a son, Opie".) But the real meat and potatoes were the previews.
Throughout my childhood, they always looked the same. There was a bright and colorful photograph of the show's star(s), standing in front of a solid colored backdrop. They were always perfectly posed depending on the size of the group, looking like they all visited the same Glamour Shots. And then there was a brief write up describing the show. Often, that preview was an indicator to the quality of the show. The more creative they got with that summary, the more likely the magazine seemed to get behind the show.
Some were very straight-forward: Here's the show and here are your stars. Most times, though, they injected humor and some creative way to help the show stand out. For example, when Mission Impossible was rebooted in 1988, they did the whole summary as if it were the show's trademark recorded message: "Good afternoon, Mr. Phelps…"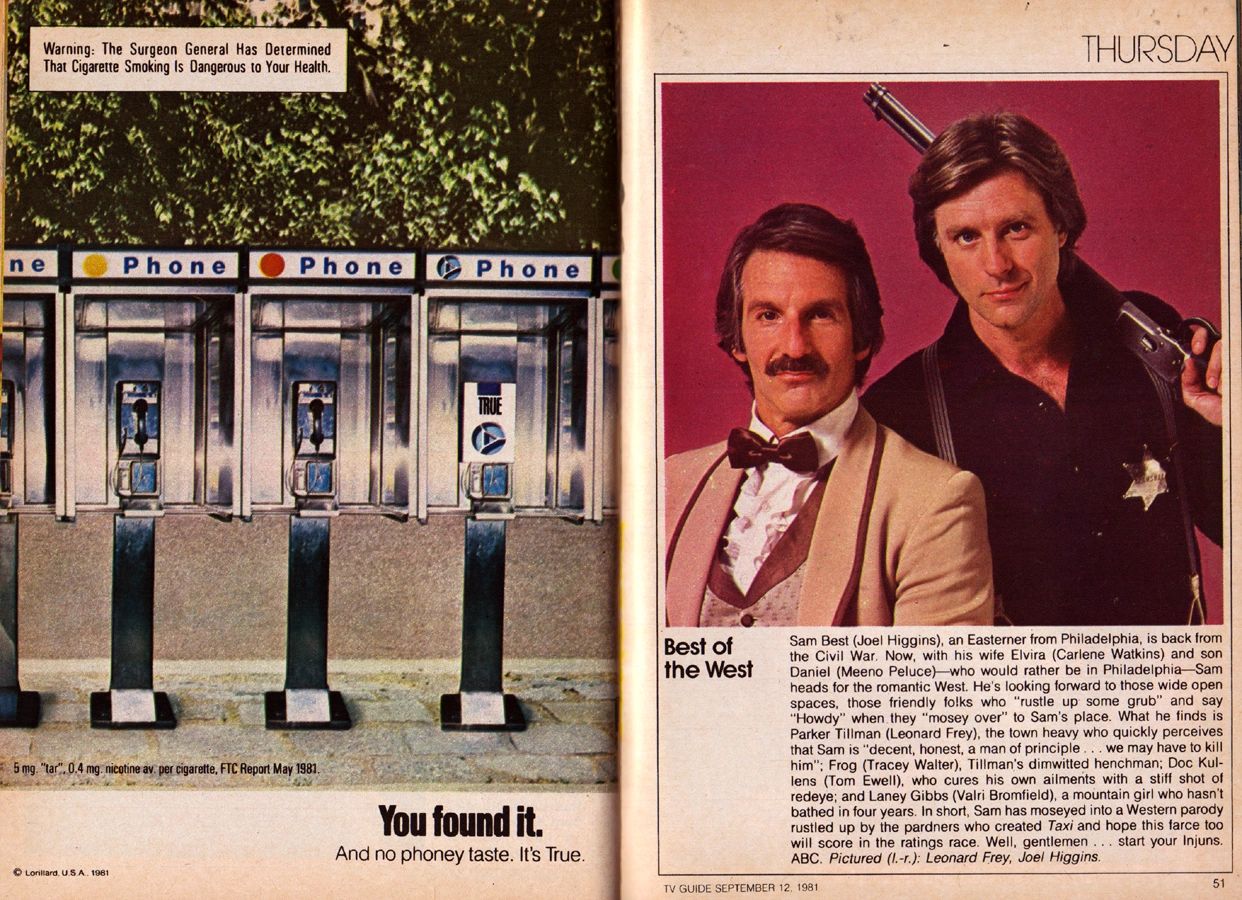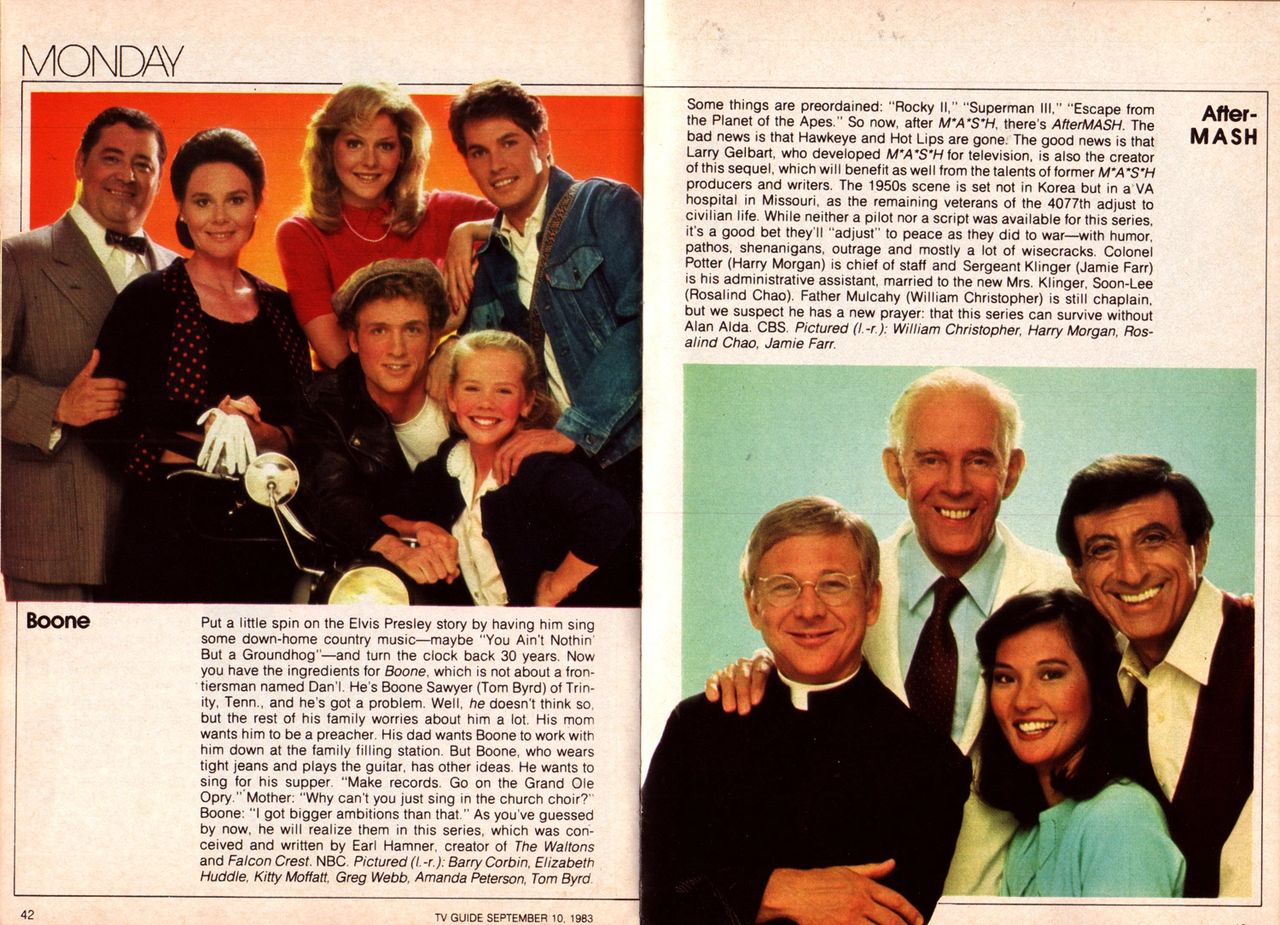 Which of the shows shown above made it to a 2nd season? After-MASH. The same show TV Guide once called the 7th worst TV series ever. How bad must Boone have been? (I remember watching Best of the the West, so I remember how bad that was).
And if you enjoyed the teases you've seen here, I've got good news. I will be looking through a number of these Fall Preview editions in full detail in the future.
Over the years, these issues became less and less impactful. There were so many new shows running on so many networks, they just couldn't keep up. Eventually, TV Guide just became another magazine. It still runs Fall Previews, but they are broken down over multiple issues. It no longer carries the weight of that one Special Issue. Besides, with all of the advanced previews, trailers, and general coverage on the web, it sometimes feels like you know everything about the show before it even premieres.
Now if you'll excuse me, I have to find out what's going to happen to ALF this season.